Commencement Bancorp Inc Announces 2023 Third Quarter Financials
November 7, 2023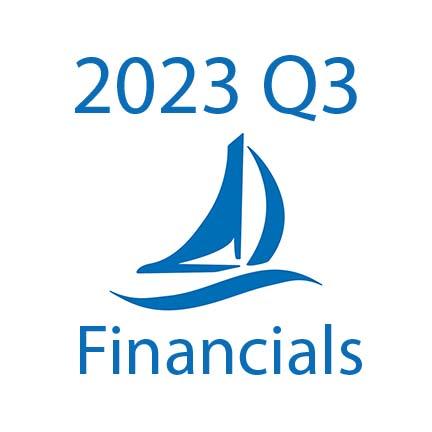 Commencement Bancorp, Inc. (OTCQX:CBWA) reported quarterly net income of $762 thousand, or $0.19 per share, for the quarter ending September 30, 2023, compared to $723 thousand and $0.18 per share for second quarter 2023. Year-to-date net income totaled $2.2 million compared to the first three quarters of 2022 of $3.9 million. Net income was affected by the higher cost of deposits brought on by the Federal Reserve rate increases, combined with costs associated with the core systems upgrade, new employee hires, and branch expansion costs.
Read more
▼
Total assets ended the quarter at $578.7 million, an increase of 4% from one year prior. Assets decreased 6% compared to the previous quarter. Total loan balances were $437.2 million at quarter end, an increase of 10% compared to third quarter 2022. Total loans averaged $436.9 million for the quarter.
Total deposits increased slightly to $506.4 million when compared to one year prior at $502.3 million but averaged $529.5 million for the quarter. Third quarter experienced fluctuation in overall deposit totals due to seasonality and anticipated outflows. Economic conditions and rate competition were also a factor as they added continued pressure to the pricing of interest-bearing deposits. Despite this, non-interest-bearing deposit balances remained stable throughout the year and ended the quarter with an increase of 3% compared to second quarter 2023. These deposits include operating accounts which tend to experience less attrition than deposits tied to rates. Borrowing capacity and liquidity remained secure and strong.
Yield on loans for the quarter was 5.39%, an increase of 14 basis points from the previous quarter which was primarily due to new and renewed loans at current market rates. Cost of funds decreased eight basis points from the last quarter due to outflow of time and non-maturity deposits and the return of brokered deposits. This resulted in an improved net interest margin for the quarter of 17 basis points, or 3.28%.
Non-interest expense remained elevated during third quarter as it has been for the year. In 2023, management planned for an increase in non-interest expense to account for additions to staff, cost of living adjustments, and inflation. Non-recurring costs associated with the full systems upgrade continued throughout the year and peaked during third quarter. During the quarter, the Bank added a banking team and full-service branch in Gig Harbor, Wash. The additional expenses related to the systems upgrade and branch expansion were planned, and the short-term impact to the Bank's financial results were expected.
"The banking industry has endured numerous rate increases resulting in higher cost of funds and decreased profitability. Commencement has worked to not only onboard new clients but to retain relationships in spite of the challenging environment. We have continued to stay focused on the market opportunities in front of us as third quarter saw the culmination of the Bank's biggest initiatives for 2023. Although there were elevated costs associated with these advancements, we are already seeing the return on our investment," said John E. Manolides, Chief Executive Officer.
Year-to-date new client relationships exceeded 250 in all markets, with growth in both consumer and commercial lines of business. It is anticipated that the new Gig Harbor branch will further supplement loan and deposit growth. Client retention has also remained a focus due to the challenging interest rate environment.
"Our experienced team of bankers continued to build upon our heightened brand recognition as evidenced by the significant increase in new client relationships. Our story of being one of the last locally-headquartered banks is resonating with our community, and we are encouraged by their response and trust in us as they seek the benefits that only a local bank can provide," said Nigel L. English, President and Chief Operating Officer.
###
Third Quarter 2023 Highlights:
Total loans grew to $437.2 million, or 10%, compared to $396.7 million the previous year. Year-to-date net loan growth totaled $7.7 million.
Non-performing assets remained well managed at the low level of .39%. The allowance for credit losses (ACL) on loans was 1.21%. No provision was made during the quarter and $115 thousand was recognized in recoveries.
Third quarter 2023 saw a leverage ratio of 10.02% and a total capital ratio of 14.44%, an increase compared to the previous quarter. All capital ratios were well above regulatory requirements.
The Bank completed an upgrade of its core systems in August of 2023, including enhanced digital banking and debit card features. Several, one-time expenses related to the upgrade were realized throughout the year, with levels expected to normalize.
Announced opening of a new full-service branch in Gig Harbor, Washington. This location originally opened in August 2023 as a loan production office with the hiring of a team previously with Columbia/Umpqua Bank, a large regional competitor.