Commencement Bancorp Inc Announces Second Quarter Financials
August 4, 2023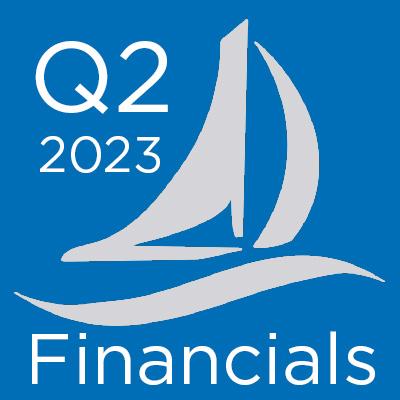 Commencement Bancorp, Inc. (OTCQX:CBWA) reported quarterly net income of $723 thousand, or $0.18 per share, for the quarter ending June 30, 2023, compared to $1.1 million and $0.27 per share for second quarter 2022. Second quarter 2023 recorded net interest income of $4.5 million. This represents an increase of 4% compared to one year prior.
Read more
▼
Total assets ended the quarter at $615.2 million, an increase of 6% from first quarter 2023 and 11% compared to one year prior. Total loan balances were $435.3 million at quarter end, an increase of 12% compared to second quarter 2022. Total deposits increased 9%, to $562.3 million, compared to first quarter 2023, with a notable increase in core deposits of 12%. Core deposit growth can be attributed to the increase in new client acquisitions.
Due to the notable increase in deposit balances, the Bank had the ability to further reduce higher cost brokered and eliminate borrowed funds and invest in overnight Fed Funds. This resulted in a positive shift in net interest income and an improved liquidity position. Borrowing capacity is secure and ample.
"While competitors, and the banking industry in general, experienced volatility in deposits, Commencement recognized a significant increase in balances during second quarter supported by existing customer growth and new client acquisitions," said John E. Manolides, Chief Executive Officer.
New client relationships increased steadily during second quarter and the Bank continued to execute its marketing strategy by focusing on opportunities from the Columbia/Umpqua Bank merger. To further capitalize on this disruption, a team of local bankers joined Commencement to lead a loan production office in Gig Harbor, which is a new market area for the Bank. Allisha McVay and her hand-selected team were previously with Columbia/Umpqua Bank and will occupy a former Umpqua branch in downtown Gig Harbor. The office is scheduled to open in early August, with the intent of converting to a full-service branch upon regulatory approval. The added salary, benefits, and operational costs associated with this expansion resulted in a calculated increase in expenses and is anticipated to remain elevated while production ramps.
"The expansion into Gig Harbor has been on the Bank's strategic roadmap for several years. The recent merger of the area's largest local bank left an opening to carry out the initiative and allowed us the opportunity to hire Allisha McVay, a trusted and well-known banker. She and her team have deep roots in the community and are thrilled to help establish the Commencement brand in Gig Harbor," said Nigel L. English, President, and Chief Operating Officer.
At the end of second quarter, the Bank announced a full systems upgrade designed to improve customer experience and enhance operational efficiencies. The transition will take place in August 2023 and includes a new remote deposit capture platform, a robust and seamless online and mobile banking application, additional debit card features, and new payment options. The new technology will keep the bank in line with its bigger competitors.
"The effort of our team and their ability to execute is evidenced by the retention and growth of our banking relationships. Marketing, through sponsorships of local venues and non-profits, solidified the Bank's commitment to support our residents and businesses. The fact that Commencement is the largest community bank headquartered in Pierce County is humbling, and I am so proud of the time and dedication our team has put into serving our communities. While expenses remain elevated with the opening of the new location and full systems upgrade, we are confident these investments will position the Bank for increased market share and economies of scale in the coming years," said Manolides.
###
About Commencement Bancorp, Inc.
Commencement Bancorp, Inc. is the holding company for Commencement Bank, headquartered in Tacoma, Washington. Commencement Bank was formed in 2006 to provide traditional, reliable, and sustainable banking in Pierce, King, and Thurston counties and the surrounding areas. Their team of experienced banking experts focuses on personal attention, flexible service, and building strong relationships with customers through state-of-the-art technology as well as traditional delivery systems. As a local bank, Commencement Bank is deeply committed to the community. For more information, please visit www.commencementbank.com. For information related to the trading of CBWA, please visit www.otcmarkets.com.
For further discussion, please contact the following:
John E. Manolides, Chief Executive Officer | 253-284-1802
Nigel L. English, President & Chief Operating Officer | 253-284-1801
Thomas L. Dhamers, Executive Vice President & Chief Financial Officer | 253-284-1803